PHILIP MAHOGANY CONTEMPORARY DOOR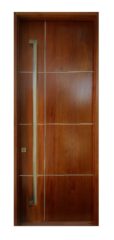 The unique contemporary door is an exercise of good taste and fine design. At bellini, we explore all the compositions with our customers arriving at the optimum creation that will enhance the residence bringing warmth and protection to the home.
Utilizing only the finest select grade genuine Honduras Mahogany and manufacturing with excellence in wood craftsmanship. Each door is a unique piece of artwork.
Since 1992 Sabana has brought beauty to homes across the United States and the Caribbean Islands.